Discover more from the B|E note
Strategic insights & idea riffs on politics, policy, people + the spaces affected by them
Over 3,000 subscribers
What Does the "Green New Deal" Mean For Black People?
Unpacking the plan reveals a number of pros and cons. But what will all of this mean for Black people?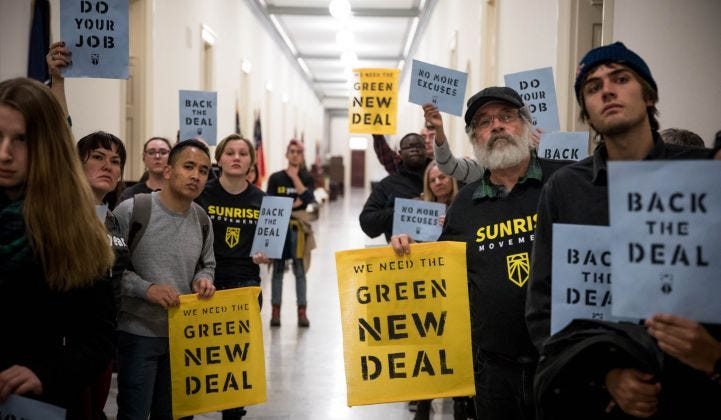 Climate change is on the minds of many these days.
And, yet, there's just a limited amount of time to act. The consensus from the United Nations and most scientists is that it will be 12 years to avert certain environmental catastrophe. We'll need a myriad of solutions to protect against the extreme heat and drought, flooding, mass poverty and social dislocation and disruption that will ensue.
Big problems will require big solutions, and saving the Earth suggests a massive wartime-style mobilization is in order. The most high-profile proposal offered to date, at least in the U.S., is the Green New Deal. Unpacking the plan reveals a number of pros and cons.
But what will all of this mean for Black people?  
Answering that question requires the dominant presence of Black community advocates and policymakers in that mobilization. Rep. Alexandria Ocasio-Cortez (D-N.Y.) and Sen. Ed. Markey (D-Mass.) have each proposed Green New Deal legislation, which is actually a non-binding resolution calling for aggressive measures to cut carbon emissions into the atmosphere. And while Congressional Black Caucus members have signed on to it, they're not the legislators creating or pushing it.  
Yet, environmental racism is real and despite the disproportionate impact of pollution and climate crisis on Black people in the United States, the introduction of the Green New Deal presents a key question: Where does the Black political establishment stand on the Green New Deal? It doesn't go unnoticed that there are no Black Members of Congress who are leading the push for it, even though they represent some of the most pollution-impacted and climate crisis-hit districts in the nation. In a competing House Select Committee on Climate Crisis formed by House Speaker Nancy Pelosi (D-Calif.), one CBC member, newly-elected Rep. Joe Neguse (D-Colo.), plays a role.
Still, the Deal boasts a number of measures for creating jobs and boosting economic growth, including a renewed focus on economic justice for vulnerable communities. The jobs portion, of course, is an attractive proposition for African Americans who find themselves burdened with the highest unemployment rate among all demographic groups: a rise from 6 percent in November to 7 percent in February, roughly 85 percent higher than the national average.  Black male unemployment has risen from 5.8 percent to 7.2 percent.