Food Insecurity Rising
The state of the nation's food is an issue long discussed and seen in many versions throughout history.
Croix Ellison | BEnote Fellow
Special insights heard daily at #RealityCheck on WURD every Mon - Thur, 10am - 1pm ET LIVE at wurdradio.com or WATCH the 7.30.20 edition on WURD TV at facebook.com/forwurd or LISTEN each day by WURD app. Also: wear your B|E today!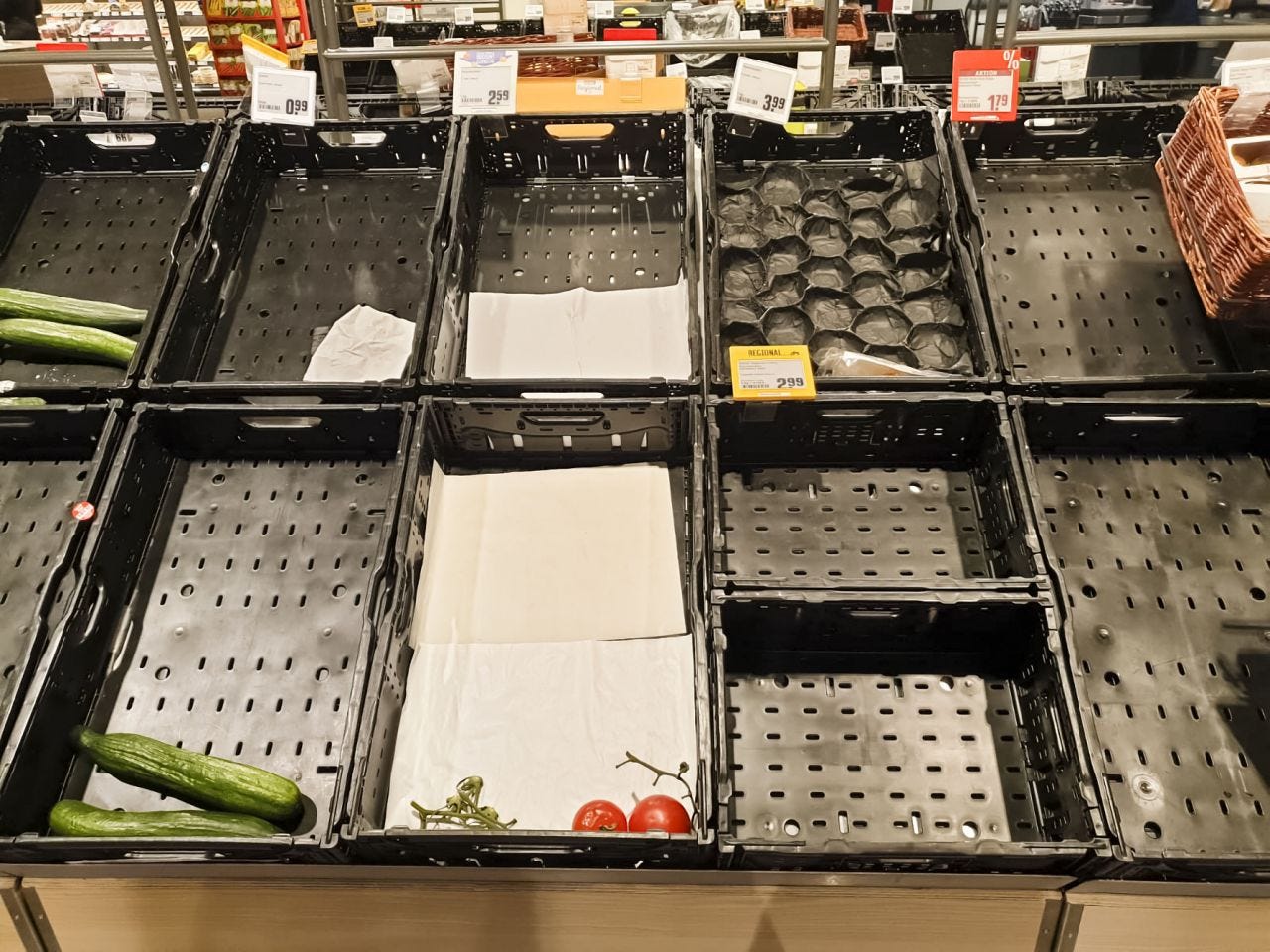 In 2019, there were an estimated 40 million Americans suffering from food insecurity. Many families had to choose between nutritious food and paying bills - and they still are. Additional research suggests that 3 out of every 10 individuals who are food insecure are unable to access federal nutrition programs.
The state of the nation's food is an issue long discussed and seen in many versions throughout history. Recently, as the coronavirus pandemic rages on, it is being raised as a topic of major concern in the U.S. with more people and policymakers taking notice as a greater number of Americans go hungry.  
According to the United States Department of Agriculture, food insecurity is defined as 'the lack of access to sufficient, safe, and nutritious food'. To summarize, food insecurity is not just merely a case of a household's hunger and a family's lack of access to food, but it is also the prevailing issue of undernourishment throughout communities that is seen not only in developing countries, but in developed countries as well. 
In a study conducted by The Food Research and Action Center, we are able to see how food insecurity has taken hold globally. The effects of food insecurity are not only seen differently in every community, but it's especially pronounced in communities of lower income and high unemployment. Taking into account that a much higher proportion of communities that suffer from being lower income are Black and Brown, the issue is devastating to the greater Black, Latino and Indigenous populations in the United States. 
For example, Jefferson County, Mississippi is a place where the population is 86 percent African American. Yet, roughly 1 in every 3 residents is facing some form of food insecurity, with 36 percent of children at risk of hunger. Or, take Greene County, Alabama where the racial demographics are 79.9% Black; there, about 1 in 5 food-insecure children live in households with incomes 185 percent above the federal poverty line, which means they may not have qualified for public nutrition assistance. 
Data from U.S. News and World Report show that 15.6 percent have diabetes and 32.8 percent of the residents lack access to large grocery stores. 
Over the period of the past 20 years, food insecurity rates have both risen and declined. However, one ratio that has sustained over these two decades is the gap in prevalence of food insecurity between people of color and Whites. A study conducted by the US National Library of Medicine National Institutes of Health between 2001 and 2016 found that the rates of food insecurity for both Black and Latino households was at least twice that of White households.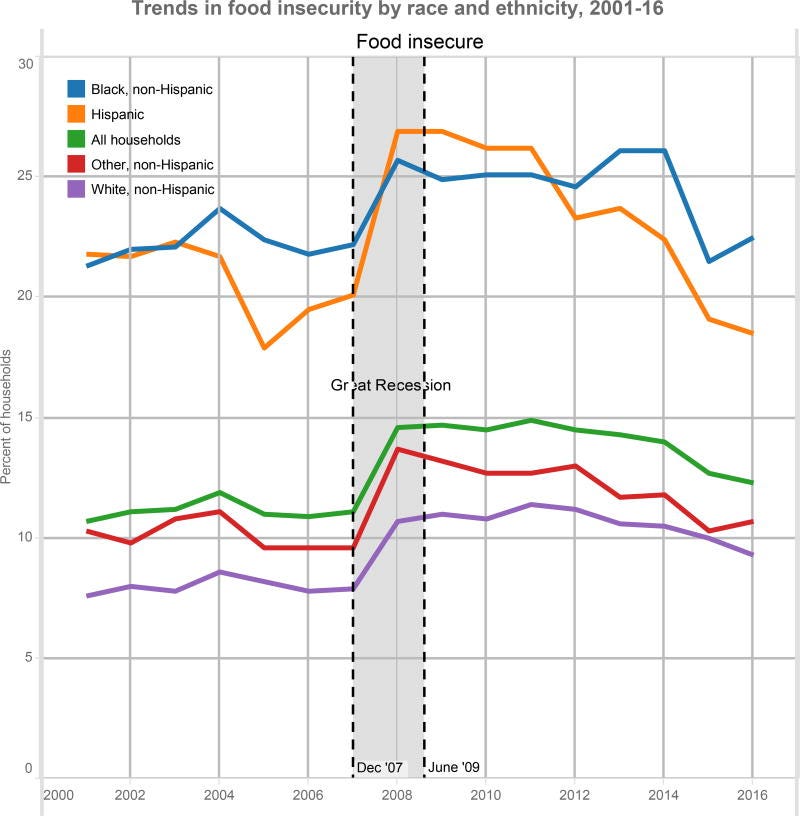 The relationship between food insecurity and race is complex and includes concerns of high rate poverty, unemployment, incarceration, and disability - issues that are due to the broader concern of the social and economic disadvantage that people of color have to deal with routinely as a result of systemic racism. Data provided by the Pew Research Center shows that White households hold 13 times the median wealth of Blacks and 10 times that of Hispanic households, respectively.
Areas that are poor and have problems finding affordable, healthy  food are also known as "food deserts". This is because there are more supermarkets than there are farmers markets. It's then easier to find a slurpee than a smoothie, and cheaper to get a Big Mac than to grab dinner at a salad bar.
When comparing communities with similar poverty rates, Black and Hispanic neighborhoods have a higher rate than their White counterparts of smaller grocery stores that are bursting with junk-food options. These are also called "stop and go,'" that haven't established healthy whole grain foods, dairy products, or fresh fruits and veggies.
Numerous studies have found that many of the high rate health disparities Black communities experience are due to differences in physical and social environments. This includes access to healthy food.
Feeding America is using data to explore how the novel coronavirus (COVID-19) will affect food insecurity rates and the people who face hunger. As they report ... 
Part of what makes food insecurity so difficult to solve is that the underlying causes — poverty, unemployment/under-employment and inconsistent access to enough healthy food — are often deeply interconnected. Moving in and out of food insecurity simply adds more stress to a household that may already be wrestling with instability and unpredictability.
While the spread of coronavirus extends throughout the country, the changes that come along with closures and social distancing are disrupting the lives of every area across the country. The uncertainty surrounding government food assistance programs like SNAP, Supplemental Nutrition Assistance Program, also makes current conditions much harder. As this recent report from the Center for American Progress shows, more than 12 million food insecure individuals have already been excluded from SNAP extensions …
… [T]he U.S. Department of Agriculture's interpretation of the law excludes households who were receiving the maximum benefit before the passage of the relief package. This means that the more than 7 million households across the country who received the maximum in fiscal year 2018—those already deemed to be the poorest and most in need by SNAP eligibility guidelines—received no extra aid as the economy plummeted into a recession. Despite challenges to the interpretation, almost 40 percent of all SNAP households are left without a needed increase in federal food assistance even while facing an unprecedented rise in food insecurity.

Food insecure individuals and families, particularly children, are the hardest hit and affected. Many in this population set face the gravest societal challenges of anyone else in the nation. The number of people who are experiencing food insecurity is likely increasing with little hope that it will decrease anytime soon and that policymakers are any closer to finding a solution.