Are There Too Many Black Non-Voters?
There is an alarmingly high rate of Black respondents in recent polling suggesting dangerously low Black voter turnout in 2020 - at a time when they're needed the most
Publisher's Riff
Special insights heard daily at #RealityCheck on WURD every Mon - Thur, 10am - 1pm ET LIVE at wurdradio.com or WATCH the 8.6.20 edition on WURD TV at facebook.com/forwurd or LISTEN each day by WURD app. Also: wear your B|E today!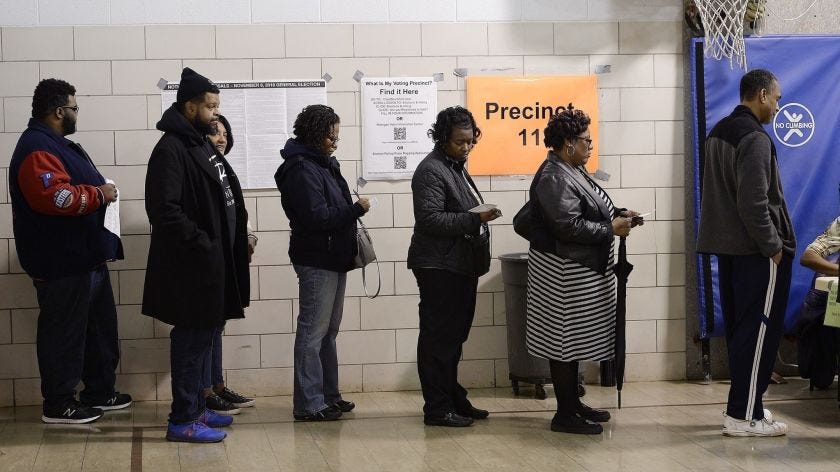 There are quite a few people out there who won't want to hear this, but here goes: the outcome of the 2020 election, including the battle for the White House and the Senate, will greatly depend, once again, on the whims of White women (particularly those in the suburbs). They will be the decisive edge. A May 2020 Washington Post-ABC poll suggests some support among White women eroding, but still about half of non-college and college educated women approve of his handling of the economy, even while just 36 percent of college educated White women approve of his overall job as president.
That will seem like a scary prediction to many considering how a majority of White women voters inexplicably voted for Trump in the 2016 presidential election. But, it's a proposition that is becoming more and more inevitable with each passing day we see signs of an increasingly agitated, frustrated and self-depressed Black voting electorate that is not showing signs it will flex optimal electoral strength by the time we reach November. While 80 percent of White women overall in that same Post-ABC poll, between non-college and college educated, signal that they are absolutely certain to vote in 2020, just 68 percent of Black voters say the same - with about 11 percent saying their chance of voting is either "50-50" (4 percent) or "less than that" (7 percent) or "not at all" (2 percent).
Black voters are in a position to be the most important and decisive voting bloc in 2020. They are in a position, if unified around a common strategic goal and around a not-so-attractive Democratic presidential candidate, to massively overcome expected voter suppression and help expand tight margins in key battleground states. They are, in addition, substantially clustered in the key battleground states holding the electoral college votes Joe Biden will need to convincingly crush Donald Trump in November. As Howard University professor Karthik Balasubramanian calculated in a February New York Times article, Black voters represent an untapped gold mine of votes for Democrats …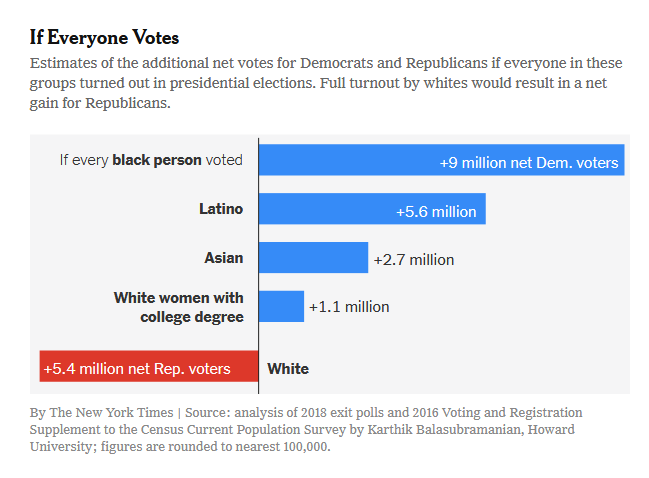 Look at how that breaks down in these six crucial battlegrounds …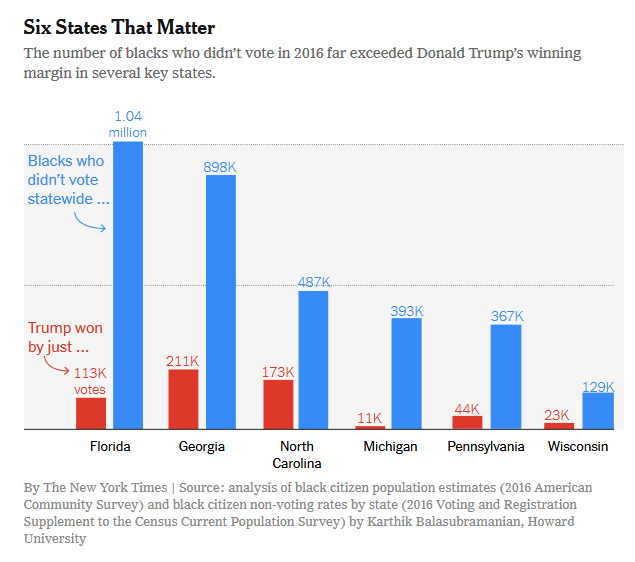 Which is why pipe-dreaming talk of abolishing the Electoral College (which is just not going to happen anytime soon, if at all) could not have happened at a worse time than now, when Black voters need to understand that maximum turnout from their communities actually puts Black people in a position to own the Electoral College.
And yet, recent polling from a number of sources shows troubling hints of devastatingly low turnout from Black communities, with a high number of potential Black voters embracing the notion of "non-voting" or "holding their vote." See American University's latest Black Swing Voter Project …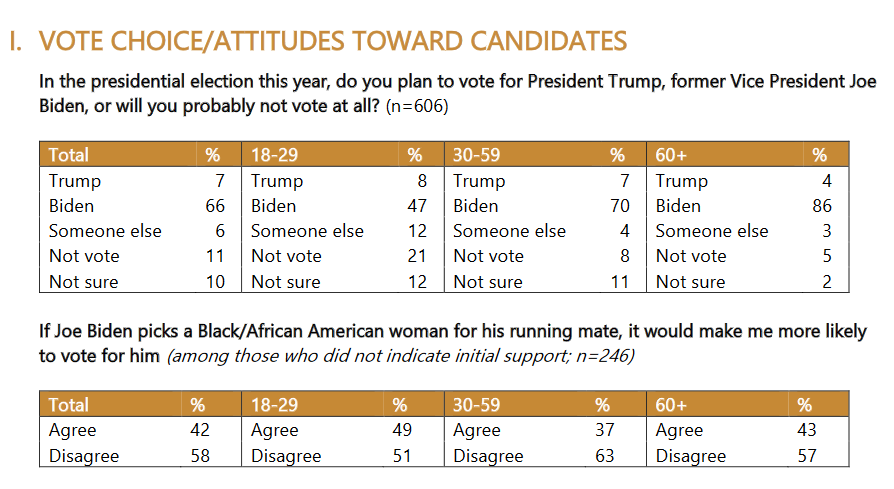 Overall, roughly 21 percent of the Black electorate is saying it's either "not voting" or "not sure." It gets worse with 33 percent of Black Gen Zers (with that demographic being the most likely, wait for it, to vote for Trump).
We see this trend in the latest Trendency report, as well …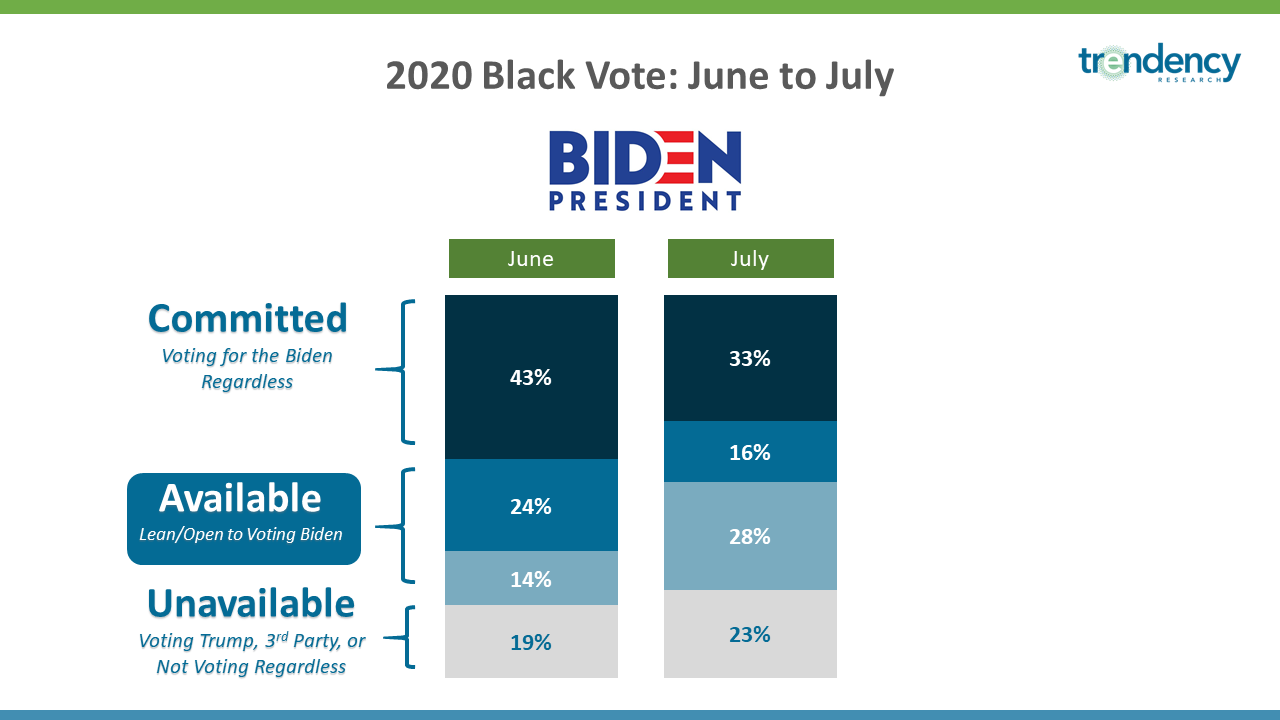 And in the most recent YouGov/Economist poll, Black voters are the most likely to say - out of every racial demographic - that they are the least enthusiastic about voting for president …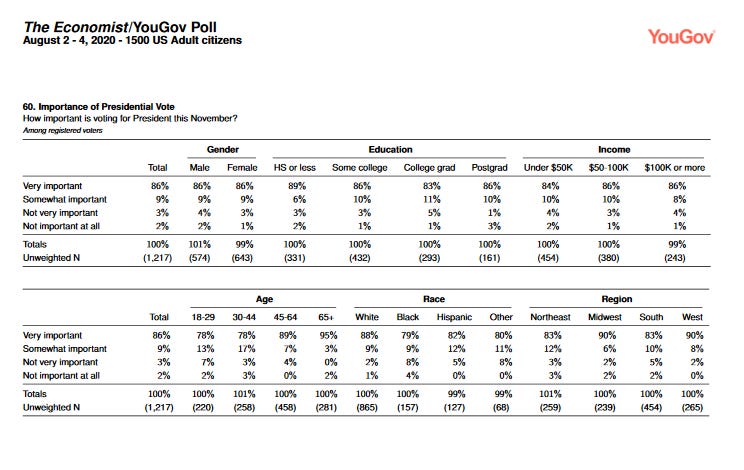 There are multiple reasons for this development. The impact of the pandemic is taking a serious toll on Black communities, especially the impending economic depression. There is a feeling of disenchantment with the political and public policy making process. But if there is one group that stands to lose or gain the most from this election, it is the Black community. Voter suppression, of course, will play a major role in this election. But, maximum Black turnout can overwhelm or offset that. That there is so much doubt surrounding the value of an act as simple, free and transformative as a vote is a very urgent matter.